Despite its small size, Slovenia has a rich fauna. This is due, among other things, to the regional diversity. From the Mediterranean coast to the high mountains, there are completely different landscapes.
At least 500 brown bears live in Slovenia, other sources even speak of 600 to 800 specimens.
The exact number is difficult to determine, as the bears are not very localised and thus live alternately in several countries. As a holidaymaker or hiker, you very rarely see the large animals.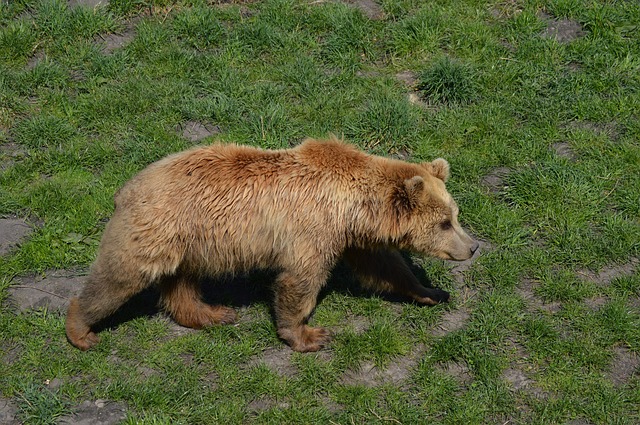 Book day tours Slovenia online
You can book many great day trips within Slovenia by bus online.
Many of these tickets are available on the well-known website Getyourguide.com
– Bus tours to the Postojna Caves: click here
– Tours to and from Lake Bled: click here
– Tours and bus trips Ljubljana: click here
---
They are considered shy. Attacks on humans are rather uncommon, but have occurred. Brown bears can reach a weight of well over 200 kg. For some years now, there have been tendencies in Slovenia to allow bear hunting again. Especially rich hunting tourists from abroad offer a lot of money for bear hunting. It is to be hoped that some of the large predators will migrate north to Austria or even Germany. There are currently (2015) no brown bears in these two countries.
As in Germany, wolves are also reappearing in Slovenia. They were never completely extinct in Slovenia, but populations have increased significantly in recent decades.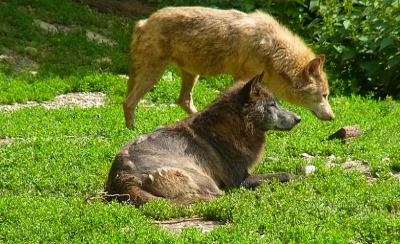 There are about 6,000 wolves in the entire Balkans, but only a small part of them live in Slovenia completely or temporarily. By comparison, there are currently (autumn 2015) about 40 wolf packs or 200 to 300 animals living in Germany. Some animals are currently migrating further towards Austria, where there are hardly any wolves. Wolves are particularly important for the fauna of Slovenia, as they mainly eat sick and weak game.
Other larger predators are lynxes and badgers. Various species of marten, similar to those in Central Europe, also occur. Wild cats are rare in Slovenia's fauna. Great efforts are being made to reintroduce lynx, similar to Germany. In recent decades, the animals have also been reproducing in Slovenia.
Our tip:
The great Ljubljana Card
Very good city ticket including local transport, castle with cable car, zoo, about 20 museums and more. The Ljubljana Card is available for 24, 48 and 72 hours. One of the best city passes for tourists in Europe. Extensive offer, good price/performance ratio, worthwhile. No more annoying buying of local transport tickets and entrance tickets for the city. Simple smartphone ticket. The Ljubljana Card is almost a must for tourists who want to see the city in a few days.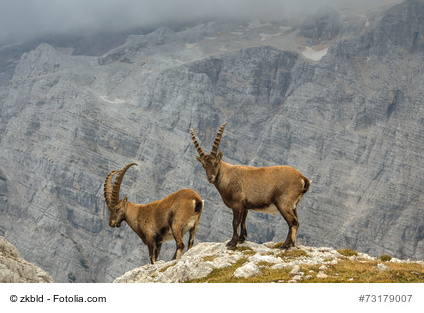 Book day tours Slovenia online
You can book many great day trips within Slovenia by bus online.
Many of these tickets are available on the well-known website Getyourguide.com
– Bus tours to the Postojna Caves: click here
– Tours to and from Lake Bled: click here
– Tours and bus trips Ljubljana: click here
---
In the Alpine areas of the country, the fauna of Slovenia is rich in other large mammals. Ibex, chamois, mouflon and others live in the higher regions. The game population of the Slovenian Alps does not differ much from the Alpine regions in Germany, Austria and Switzerland. There are again about 500 ibex living in the mountains of Slovenia. This is considerably more than before, but still few in international comparison (e.g. Switzerland just under 20,000, Italy 14,000). However, one must bear in mind that Slovenia is a small country, only part of which is covered by high mountains. Other larger game such as deer (red deer and dam deer), wild boar and roe deer are also native to Slovenia. The country's large forests provide a good habitat for these species.
The country's fauna is equally rich in bird species. The white storks, which are still common here in the south-east of Central Europe, deserve special mention.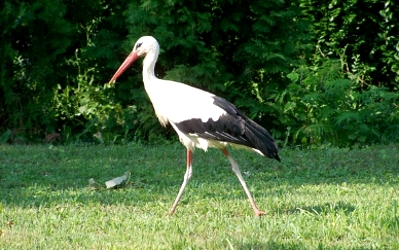 Particularly many storks can be found in the north-east of the country, for example on the border with Hungary. In some regions, every village has a stork nest. The two neighbouring villages of Mala Polana and Velika Polana, not far from the Hungarian border, are said to have the highest number of storks in Slovenia; about 25 adult white storks live only here. The stork is also a popular animal in Slovenia and is extensively protected.
Pheasants and partridges are often seen in Slovenia, and they are also hunted. Often foreign guest hunters take part in these hunts for a fee.
Rare birds that live in Slovenia include the golden eagle, the griffon vulture, the quail, the corncrake and the hen harrier. A total of about 200 bird species breed in Slovenia, plus migratory birds.
There are about eight to ten different snakes in Slovenia, at least four of which are poisonous. On the one hand, the adder, which is also common in our country, is native to parts of the country. The poisonous asps viper can also be found in small areas of Slovenia. It is also found in the Black Forest. The most poisonous snake in Slovenia is the European horned viper, which is found in Europe from southern Austria to Greece. Less dangerous to humans are the cat snake and the non-poisonous snake species such as the leopard snake, the four-striped snake or the grass snake. People are rarely bitten by snakes in Slovenia. However, one should always seek medical attention quickly after a snake bite. More information about snakes in Slovenia here.
You should also see a doctor quickly if you are bitten by a scorpion or tarantula. These venomous animals are also found in Slovenia. The tarantula is a larger poisonous spider that hunts and does not spin webs. Their bite can be painful for humans, sometimes even dangerous. However, these animals are more common in some regions further south in the Balkans or Italy than in Slovenia. Scorpions in Slovenia are mostly small (5 cm to 8 cm). There are several species whose venom is usually not life-threatening to humans. However, you should not rely on this. Scorpion stings are rather rare in Slovenia.
Typical freshwater fish in Slovenia are trout, pike, catfish, grayling, nase, pikeperch and carp, which are also common in Germany. In the sea on the Adriatic, there are fishermen who catch the usual Mediterranean fish. These are then served to tourists in restaurants along Slovenia's short coastline. However, the country also imports a lot of fish. Not every fish in a taverna in Slovenia actually comes from a local fisherman.
Note: Another page within this guide is about plants in Slovenia.