Kranjska Gora is a municipality with about 5,000 inhabitants in the north-west of Slovenia, not far from Austria. It is the largest ski resort in the country, and like Garmisch-Partenkirchen in Germany or Zakopane in Poland there is a ski jump and a ski flying hill. Ski World Cup races are held regularly in Kranjska Gora, and the World Ski Flying Championships have also been held here several times.
Book day trips in Slovenia online
You can book many great day trips within Slovenia by bus online.
Many of these tickets are available on the well-knownwebsite Getyourguide.de.
– Bus tours to the Postojna Caves: Click here
– Tours to and from Lake Bled: Click here
– Tours and bus trips Ljubljana: Click here
Kranjska Gora borders Austria to the north and Italy to the west. Both countries are only about 10 km away. There are direct road connections to both countries. Austria can be reached via the 18% steep Wurzen Pass, which is not passable by all vehicles. The ski jumps, including the famous ski flying hill, are in the suburb of Kranjska Gora called Planica.
Kranjska Gora with its suburbs has more than 5,000 hotel beds. Many hotels are in the main town (about 1,500 inhabitants), but quite a few accommodations are also in other parts of the municipality's very large area of over 2,500 km². Not a bad choice are usually the hotels at the great lake Jasna, which is about 2 kilometres away from the centre of Kranjska Gora. Here you can swim and rent boats in summer. However, the water is only about 20 degrees even in high summer. Lake Jasna has inflows of cold water from the mountains.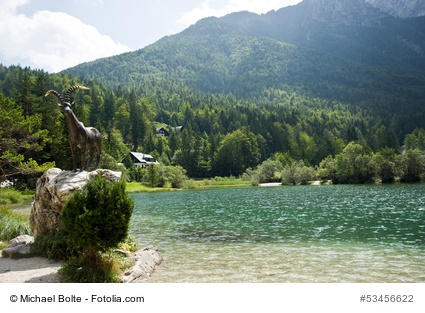 Lake Jasna near Kranjska Gora
Centre of Kranjska Gora
The centre of Kranjska Gora is always quite busy. There are about a dozen restaurants and cafes. The eye-catching central building is the church.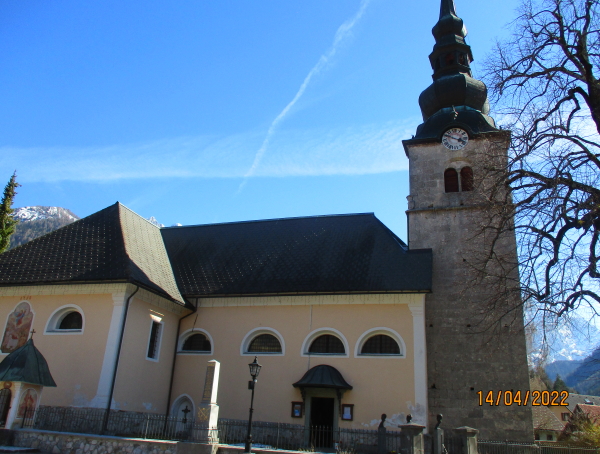 Almost next to the church begins the small pedestrian zone of Kranjska Gora, the heart of the town. There are several restaurants here. Many of them offer pizza, which is probably due to the proximity to Italy.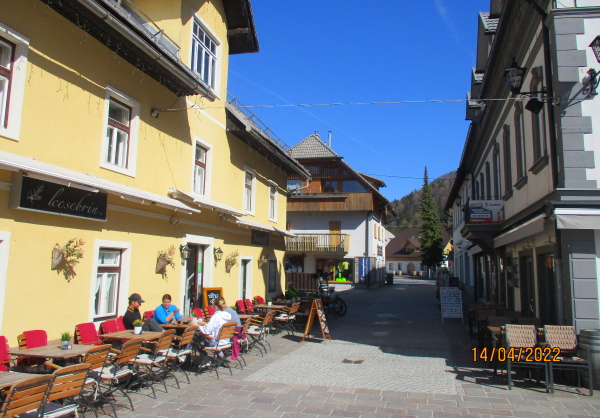 There is also a large Mercator supermarket, souvenir shops, a large sports shop and other shops. We also enjoyed the Asian restaurant "Shanghai", about 300 metres from the central church.
The Tourist Info Centre in the centre of town is helpful. The Korona casino and the Ramada Hotel are also well-known in Kranjska Gora.
Above all, Kranjska Gora is a place for winter sports. Ski lifts start on the outskirts of the village and are within walking distance. Around the municipality you will find about 50 km of cross-country skiing trails. In Kranjska Gora there are also ski schools and companies that rent ski equipment and other sports equipment. Mountain guides can also be hired.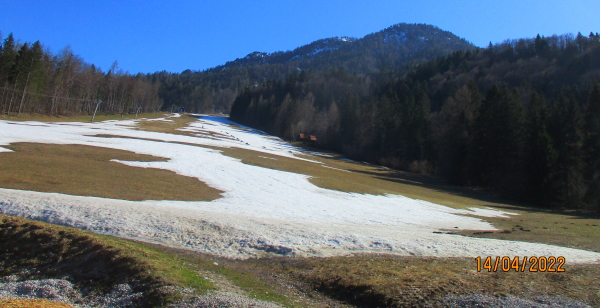 Suburb Planica
Kranjska Gora is particularly busy during ski world cup races or ski jumping events. We have written a separate article about Planica in this Slovenia travel guide: Click here
Book day trips in Slovenia online
You can book many great day trips within Slovenia by bus online.
Many of these tickets are available on the well-knownwebsite Getyourguide.de.
– Bus tours to the Postojna Caves: Click here
– Tours to and from Lake Bled: Click here
– Tours and bus trips Ljubljana: Click here
Hiking and sports Kranjska Gora
In summer, hiking and cycling are the main activities in Kranjska Gora. Good walks can be found in the south of the town towards the Triglav National Park. Along the river Sava Dolinka there are some easy cycling tours. But the king of stages on a bike is the 1,611-metre-high Vrsic Pass towards the white-water sports community of Bovec. This high pass is only open in summer.
Hotels Kranjska Gora
In Kranjska Gora, in addition to a few hotels, there are many private room rentals and holiday flats. Renting a small flat is often the better choice. You have more space, a kitchen and, with a bit of luck, a nice contact with a local person.
Many of these holiday flats, which are called "flat" or "apartma" in Slovenian, can be booked in advance on the internet. You can get more information by clicking on the name of the accommodation in the following text.
More than recommendable is the somewhat larger holiday flat rental Apartments Bernik with a total of 11 rooms, studios and flats. Although the accommodation is in the middle of the village of Kranjska Gora, the nearest ski slope is a 2-minute walk away. There are smaller studios with kitchenette in the Bernik, but also holiday flats with 1 or 2 bedrooms for up to 6 people. Almost all guests were very happy with the "Apartments and Rooms Bernik". If you don't want to make your own breakfast, you can get a great breakfast buffet for only 7 euros. Despite the central location, the flats are in a rather quiet side street. Depending on the season, the owners organise various excursions – by sledge, on foot or by bike.
Also in the village is the nice flat Pri Struklju. The owners rent out a single holiday flat for up to 4 people. A dog can also be brought along after consultation. The accommodation is equipped with, among other things, a flat-screen TV, cooker, oven, parking space, free Wi-Fi internet and a parking space.
The two holiday flats at Apartments Blazic are also very popular. One flat has one bedroom and a living room, the other even 2 bedrooms and 1 living room. Free internet, nice landlords, very clean, good location.
Connections Kranjska Gora
The old railway station of Kranjska Gora has not existed for a long time. The tracks have been completely built on. The only train connection is to Jesenice, 20 kilometres away. From there, many trains go to Villach in Austria and to Ljubljana via Bled.
Direct bus connections from Kranjska Gora via Jesenice to Ljubljana run about every hour, and only as far as Jesenice often every 30 minutes. The bus towards the border with Italy to the suburb of Ratece (near the suburb Planica) also runs every hour durig the day.
Unfortunately, the connections by bus over the high Vrsic Pass are only good in high summer. In July and August, 6 buses run every day in both directions. In the low season there is one bus connection daily, in winter unfortunately none at all. To our knowledge, there is unfortunately no regular public transport from Kranjska Gora to Austria and Italy. You can share a taxi.
By the way, Kranjska Gora translates roughly as "Krainer Berge". The old German or Austrian name of the municipality "Kronau" is only rarely used. In Italian, Kranjska Gora is called "Monte Cragnisca".