If you want to spend your holiday in Slovenia, one question immediately arises: Where in Slovenia should I go? This question cannot be answered uniformly. The answer depends very much on the individual wishes. Do you want an active holiday? If yes, rather cycling, winter sports, water sports or hiking holidays? If not, do you prefer a quiet seaside holiday, a cultural holiday or nightlife until the early morning? Are you travelling alone, as a couple or is it a family holiday? All these questions are important when choosing the right holiday destination.
Our tip: The great Ljubljana Card
Very good city ticket including local transport, castle with cable car, zoo, about 20 museums and more. There is the Ljubljana Card for 24, 48, 72 hours. One of the best city passes for tourists in Europe. Extensive offer, good price/performance ratio, worthwhile. No more annoying buying of local transport tickets and entrance tickets for the city. Simple smartphone ticket. The Ljubljana Card is almost a must for tourists who want to see the city in a few days.
---
One advantage of Slovenia is the small size of the country. You can easily visit cities like
Ljubljana
, walk in the Alps and swim at the sea in one holiday. Slovenia is about 250 km wide from east to west. The north-south extension is only about 110 kilometres. So if you are in the middle of the country, hardly any place is more than 2 hours away by car. The motorway network is well developed. Thus, many destinations can be reached in day trips.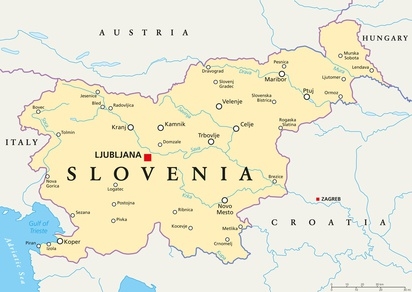 Image: © Peter Hermes Furian – Fotolia.com
Book day tours Slovenia online
You can book many great day trips within Slovenia by bus online.
Many of these tickets are available on the well-known website Getyourguide.com
– Bus tours to the Postojna Caves: click here
– Tours to and from Lake Bled: click here
– Tours and bus trips Ljubljana: click here
---
Bathing holiday in Slovenia
Although the Slovenian coast is only about 48 km long, it has a lot to offer. There are some very wonderful beaches and beautiful small towns.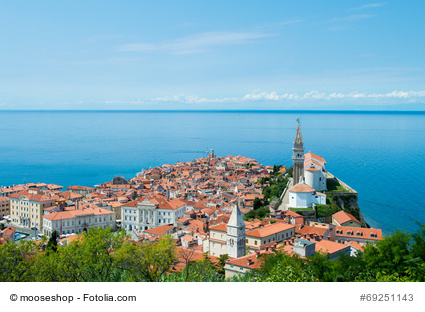 Piran, the most beautiful place on the coast
The most beautiful sight on the Slovenian Adriatic is the old town of Piran. There are not beaches everywhere along the coast, sometimes the shore consists of concrete slabs, ladders lead into the sea. Unfortunately, this is not unusual in this part of the Mediterranean. However, there are also beautiful beaches in Slovenia, for example in Portoroz. This is also where most of the hotels are. The most beautiful place on the Slovenian coast (Piran, see picture) is only a few kilometres further north.
These are the two places where most seaside holidaymakers in Slovenia spend their holidays. Izola, a few kilometres from Piran, is not bad either. You can also swim in some lakes in high summer, for example in the famous Lake Bled. In the well-known towns with thermal springs you will find modern open-air and indoor swimming pools. Larger hotels, especially on the coast or in Bled, often have swimming pools.
Family holidays and holidays with children in Slovenia
The most frequently visited destination for young families with children in Slovenia is the coast. Of course, you can also visit the capital Ljubljana and other cities with children. Hiking in the Alps on a family holiday is possible. The people in Slovenia are usually very child-friendly. Often small children can stay for free in hotels and eat for free in restaurants. For slightly older children, there are children's portions in many restaurants. In Bled and the surrounding area, you will find a noticeable number of older couples on holiday.
The most visited city in Slovenia is the capital Ljubljana. Here you will also find many sights in the form of historical buildings and museums. Another city ideal for sightseeing on a city break in Slovenia is Piran on the short coast on the Adriatic Sea. The old town of Maribor, the second largest city, is also worth at least a day trip. Another beautiful town in the east is Ptuj, the oldest town in Slovenia.
Hiking holiday in Slovenia
Slovenia is a great place for hiking. The country is sparsely populated, and in the mountain regions you will find a lot of beautiful nature. The authorities have done a lot for hikers in recent decades. There are said to be more than 8,000 km of marked hiking trails in Slovenia. These are simple walking trails, some of them even suitable for prams, but also alpine stages for absolute professional mountaineers.
Where to go hiking? Most hiking enthusiasts are drawn to the Triglav National Park in the Slovenian Alps. It is the only national park in the small nation. The mountains here are up to 2,860 metres high. Some hiking trails are only snow-free in high summer. Other beautiful hikes in Slovenia are in the Styrian Alps, for example. In the Karst, further south, the marked hikes are not alpine and thus often less difficult.
---
Bovec: Largest Zipline Park in Europe
Near Bovec is a special attraction: ride on ziplines (ropes) over a 200-metre-high canyon at speeds of up to 60 km/h. A special adrenaline kick that you won't forget for the rest of your life! In the Ziplin Park there are 10 ziplines with lengths ranging from 250 metres to 600 metres. An absolute highlight on a holiday in Slovenia!
---
Winter holidays in Slovenia
More and more Germans and Austrians are going to Slovenia to ski. The Slovenians have been a proud skiing nation not only since Tina Maze's successes. The prices are lower than at home, the general conditions are quite good.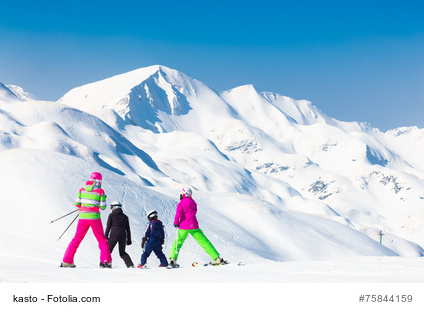 Skiers in the mountains
So the price-performance ratio is right. Kranjska Gora, not far from the Austrian border, is the best-known winter sports resort in Slovenia. Other larger ski resorts are, for example, Bohinj or near Maribor in the east of the country. However, there are also many winter sports regions in Slovenia that are not so well known internationally. Tina Maze, by the way, comes from Slovenj Gradec, a town of 6000 inhabitants in the central north of the country.
Water sports in Slovenia
Slovenia is known for its white-water rivers. Rivers like the famous Soca are navigated with kayaks and other boats.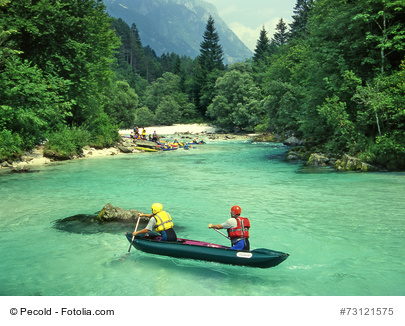 Canoeing in Slovenia
The upper, wild part of the Soca River in the north-west of the country is particularly suitable for white-water sports. Kayaking and rafting are particularly popular in Slovenia. The centre for these sports is the small town of Bovec. Here there are hotels, room rentals and camping sites for the athletes. White-water tourism is the most important economic sector in the small town with 3,200 inhabitants. Classic rowers can be found on the calm Lake Bled in the north of Slovenia near the border to Austria. Of course, there are also various water sports opportunities on the coast.
Book day tours Slovenia online
You can book many great day trips within Slovenia by bus online.
Many of these tickets are available on the well-known website Getyourguide.com
– Bus tours to the Postojna Caves: click here
– Tours to and from Lake Bled: click here
– Tours and bus trips Ljubljana: click here
Cycling holidays in Slovenia
A very popular cycling route, for example, leads through the Soca Valley. Other areas, such as the southern Karst, are also very suitable for cycling. If you want to cycle over the Alpine passes in the north, you should be fit. You can take bicycles on the train from Germany or Austria. But you have to inform yourself beforehand. Bicycle spaces are limited on the Eurocity, for example. Of course, you can also rent a bicycle in Slovenia. On planes you can usually check in bicycles as luggage for an extra charge.