Maribor is the largest city in eastern Slovenia. The Austrian border and the second largest city in Austria, Graz, are only a few kilometres away. With a population of about 110,000 (including suburbs about 170,000 inhabitants), Maribor is the second largest city in the country after the capital Ljubljana.
The city is shaped by the wide river Drava. The old German name of the city of Maribor is Marburg an der Drau. However, this former place name is rarely heard anymore.
Book day trips in Slovenia online
You can book many great day trips within Slovenia by bus online.
Many of these tickets are available on the well-knownwebsite Getyourguide.de.
– Bus tours to the Postojna Caves: Click here
– Tours to and from Lake Bled: Click here
– Tours and bus trips Ljubljana: Click here
Maribor is definitely worth seeing! The old town was gradually renovated after Slovenia's independence and now shines again in its old splendour. The old Austrian influence in the cityscape is obvious.
Almost all the sights in Maribor are north of the big river Drava. This is also where the city's branching pedestrian zone is located. We have dedicated an extra page to the extensive sights of Maribor: Click here
Many people come to Maribor to shop, especially from nearby Austria. The majority of these tourists shop either in the pedestrian area of the city centre or in the gigantic new Europark shopping centre just south of the river Drava, about 15 minutes' walk from the old town. We have also prepared a special page on shopping in Maribor: Click here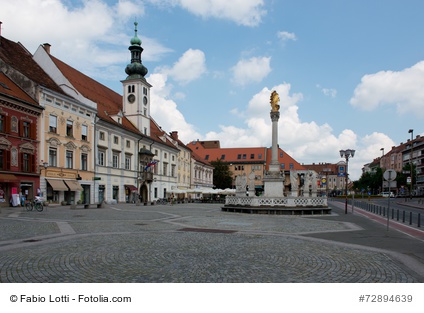 Getting to Maribor: The city is an important railway junction. You can reach Maribor directly by train from Graz, Vienna, Ljubljana or Zagreb, for example. The journey time from Graz in Austria is only about one hour. If you travel by train from Germany to Maribor, you have to change trains at least once. This is usually done in Graz, but Ljubljana or Vienna are also possibilities. The small airport of Maribor is rarely used. Because of the good railway connections, there are fewer long-distance buses to Maribor than to other large cities in Slovenia. However, a direct journey from Ljubljana to Maribor is possible by bus a few times a day. Direct buses from Maribor to the Slovenian coast (e.g.) are rare, you usually have to change buses in the capital Lubljana. Many buses go to the villages and towns in the vicinity of Maribor. The big bus station is a few 100 metres south of the railway station, both are east of the city centre and north of the river Drava. River cruises on the Drava are popular with tourists.