Ljubljana Airport is the only passenger airport of significant size in Slovenia. Other airports are mainly used by business people with private planes and hobby pilots.
From Maribor there are sometimes flights to London, as well as some charter flights to southern Europe in the summer. From the third airport in Portoroz on the Mediterranean, there are currently no passenger flights at all, to our knowledge.
---
Book day tours Slovenia online
You can book many great day trips within Slovenia by bus online.
Many of these tickets are available on the well-known German website Getyourguide.de.
– Bus tours to the Postojna Caves: Click here
– Tours to and from Lake Bled: Click here
– Tours and bus trips Ljubljana: Click here
---
Ljubljana Airport is not particularly big either. Slovenia has barely more inhabitants than Hamburg, Ljubljana about as many as Augsburg. There are only connections to other European countries, including several flights daily to and from Germany. Incidentally, Slovenians also like to use airports in nearby countries. In Croatia, there are three airports not very far from Slovenia (Zagreb, Pula and Rijeka). In Austria, the airport in Klagenfurt can be reached quickly from the north of Slovenia, and in Italy the airport in Trieste. Many tourists who go on holiday to Slovenia also often fly to an airport in a neighbouring country. Such flights are often cheaper than flights to Ljubljana.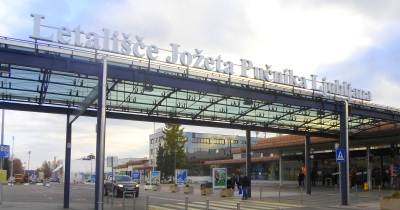 Location Ljubljana Airport
The airport is about 25 kilometres north of the capital of Slovenia. Closer is Kranj, the fifth largest city in Slovenia with almost 40,000 inhabitants. Kranj is only about 8 kilometres from the airport. The tourist town of Bled and Lake Bled at the foot of the Alps are also not too far from Ljubljana Airport. It takes about 30 minutes by car to get from the airport to the centre of Ljubljana. The public bus connects the airport with Ljubljana city centre in 45 minutes. During rush hour, for example, the bus journey can take well over an hour.
Name Ljubljana Airport
The official name is almost unpronounceable for foreigners: Letališče Jožeta Pučnika Ljubljana (translated: Joze Pucnik Ljubljana Airport). Joze Pucnik was a Slovenian politician who led Slovenia to independence between 1989 and 1992.
Book day tours Slovenia online
You can book many great day trips within Slovenia by bus online.
Many of these tickets are available on the well-known German website Getyourguide.de.
– Bus tours to the Postojna Caves: Click here
– Tours to and from Lake Bled: Click here
– Tours and bus trips Ljubljana: Click here
Even in Slovenia, the airport is rarely called by its full name. One often hears "Letališče Brnik" (Brnik Airfield). Brnik is a village not far from the airport. Simple is "Airport Ljubljana", which almost every local and tourist understands.
Our impression of the airport
It is a very small airport, which we like very much. Everything seems very modern and well thought-out. Right after the exit on arrival, you stand in front of the Tourist Information Centre (TIC), which is also open in winter. Taxis are waiting in front of the airport, the bus stop is well signposted and only a few metres away. The prices of the shops, cafes and restaurants are surprisingly low for an airport.
Orientation Ljubljana Airport
As the airport is not too big, orientation is not too difficult. As at most airports, Departure and Arrival are next to each other. Taxis are waiting directly in front of them. 10 metres further on is the bus stop, there is no train. Opposite the main building are the car rental offices, behind them is a large multi-storey car park. To the left of the exit is another large car park. Also to the left is another building. If you go to the second floor, you stand on a viewing platform. From here you have a wonderful view of large parts of the tarmac and the runway.
We really liked the symbols on the signposts. Where possible, words were not used.

Hardly any tourists understand Slovenian, not all Slovenians understand English. Everyone understands symbols like these.
Buses to Ljubljana Airport
Buses to Ljubljana Airport leave directly in front of Ljubljana Central Station. The bus stops are numbered like platforms, and the airport bus stops on platform number 28, right in front of the station building. When you come out of Ljubljana Central Station, just walk 20 metres to the right. Airport buses run from the city to the airport mostly every hour during the day, usually 10 minutes past the hour. From the airport to the city, buses leave on the hour. Beware: there are far fewer buses at weekends and on public holidays. The fare is cheap, 4.10 euros for adults. The journey takes about 45 minutes, considerably longer if there is a lot of traffic (e.g. rush hour). The airport bus is a regular bus and stops in some villages along the way. Tickets can be purchased from the driver in cash.
There is also a bus directly from the airport to Klagenfurt in Austria about 4 times a day. These buses stop at the Klagenfurt bus station in the city and at Klagenfurt airport. There are also a few buses to Kranj in Slovenia. There you can change to Bled, for example.
Shuttle buses are also offered at Ljubljana Airport. These cost about 9 euros per person to the capital. The advantage of the minibuses is that you are taken directly to your hotel.
All information is from 2019 and, like everything on this website, is of course without guarantee.
Our info page about Prague airport transfer (buses between Prague airport and city centre).
Viewing platform
A good way to pass the time is to visit the observation deck. If you are interested in details on the tarmac: There are even coin-operated binoculars. There is also a small playground for children on the visitors' terrace.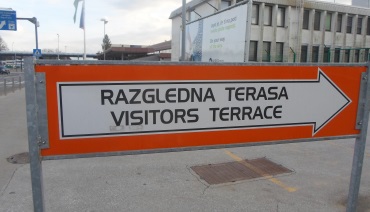 If you don't want to stand outside, you can also sit in the café on the visitor terrace. From there you also have a great view of the interior of Ljubljana Airport.
Visitors Terrace opening hours: Daily from 9 a.m. to 6 p.m.
Gastronomy and shops Ljubljana Airport
In the Departures area there is a restaurant called Globetrotter. The prices are surprisingly low for an airport, and the quality is ok.
Even cheaper is the attached self-service restaurant Market Place. We paid around 6 euros for good sausages with sauerkraut.
There are two more cafes in the Arrivals area and on the observation deck. Even in the airport shops, the prices are not too high for an airport in Europe (for example, sweets and drinks). There is also a souvenir shop and smaller shops selling clothes, books and other items.
Parking and parking fees
As at all airports, parking is not cheap. There are two rates. One is for the covered car park, parking in the open is slightly cheaper.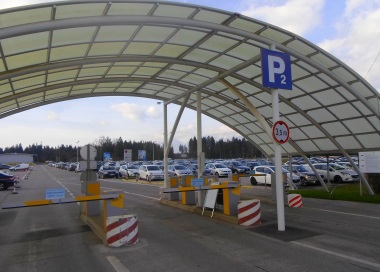 Below are some parking fees in the multi-storey car park in 2019 and in brackets the prices for an outdoor parking space: Up to 1 hour 2,50 Euro (2,00), up to 2 hours 4,50 (3,50), up to 4 hours 6,00 (5,00), up to 8 hours 8,00 (6,00), up to 24 h 14,00 (12,00) etc. If you pay for a long period in advance, you get significant discounts, e.g. 8 days 59 euros (49) or 15 days 96 euros (79). There are even annual tickets on offer: 950 euros or 700 outside.
Caution: Incorrect parking at Ljubljana Airport is punished quickly, even if you only stop for a short time. The police are almost always on the spot.
Airlines and destinations
The airline that uses Ljubljana Airport most frequently is the local airline Adria Airways. It flies all year round to Munich, Frankfurt, Vienna and Zurich, for example. In the season, it also flies to Berlin (Tegel). To our knowledge, other airlines do not fly from Slovenia to Germany, Austria or Switzerland. Thus, to our knowledge, Lufthansa does not fly to Ljubljana either. (As of 2019).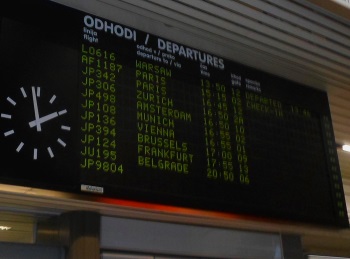 Many other flights from Ljubljana Airport connect the capital of Slovenia with other cities in the former Yugoslavia. There are also flights to Paris, London, Manchester, Amsterdam, Brussels, Copenhagen, Prague, Warsaw, Moscow and Istanbul. There are no intercontinental flights from Ljubljana to destinations outside Europe. Similarly, there are no domestic flights in tiny Slovenia.
Car hire and rental cars
Most tourists and business people book rental cars on the Internet. Of course, you can also rent a car directly at Ljubljana Airport. As far as we know, all car rental offices are in a building opposite the airport (about 50 metres away). We saw offices of Europcar, Hertz, Sixt, Budget and Avis, among others, but there are several other car rental companies.
Train Vienna Airport: Information about the big airport of Austria and connections to the city centre: Click here
Our London airport transfer page (all airports by bus and train): Click here