Slovenia is a country for active tourists. The Alps and other areas offer ideal conditions for hikers. There are also good skiing areas in the Alps. Slovenia is especially known for white-water sports. The Soca, a long, wild river in the mountains north of the country, has become one of the most popular regions in the world for canoeists. A number of water sports are also popular along Slovenia's short coastline. For cyclists, whether on the road or on a mountain bike, Slovenia offers the best conditions.
Book day tours Slovenia online
You can book many great day trips within Slovenia by bus online.
Many of these tickets are available on the well-known website Getyourguide.com
– Bus tours to the Postojna Caves: click here
– Tours to and from Lake Bled: click here
– Tours and bus trips Ljubljana: click here
---
Canoeing and kayaking in Slovenia
These boating sports have been booming worldwide in recent years. In the last 20 years, Slovenia has increasingly developed into an international centre for white-water sports. For kayaking and canoeing, the Soca River in western Slovenia is by far the most popular stretch of water. But other wild rivers, such as the Sava Bohlinjka, the Savinja or the Kolpa, are also being navigated more and more by canoe or kayak. The centre of white-water sports is the town of Bovec on the Soca River.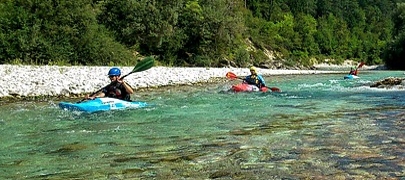 The big centre for kayaking and canoeing is the small town of Bovec with 3,000 inhabitants on the upper Soca. You can go on the river in a group through an agency. Experienced sportsmen can also go on their own. However, this can be more dangerous and there are many rules to follow. First you have to buy a permit at the tourist information. You are only allowed in and out of the river at certain points. There are also precise rules about equipment such as helmet, rope for rescue and much more. Different sections of the Soca and other rivers are very different in terms of danger and difficulty. If you book in a group through an agency, you can also rent the equipment. The Soca may only be navigated from 15 March to 31 October. In the remaining months, the beautiful river valley belongs to nature rather than sport. In Bovec and other places there are inexpensive overnight accommodation options, such as hostels, private rooms and especially campsites. Wild camping is prohibited.
Bovec: Largest Zipline Park in Europe
Near Bovec is a special attraction: ride on ziplines (ropes) over a 200-metre-high canyon at speeds of up to 60 km/h. A special adrenaline kick that you won't forget for the rest of your life! In the Ziplin Park there are 10 ziplines with lengths ranging from 250 metres to 600 metres. An absolute highlight on a holiday in Slovenia!
---
Our article about a tour of the Madrid stadium with a link to ticket sales.
Book day tours Slovenia online
You can book many great day trips within Slovenia by bus online.
Many of these tickets are available on the well-known German website Getyourguide.de.
– Bus tours to the Postojna Caves: Click here
– Tours to and from Lake Bled: Click here
– Tours and bus trips Ljubljana: Click here
Rafting in Slovenia
Rafting is also an absolute trend sport. A group of people descends a white-water river in special, modern inflatable boats. Usually there are 4 to about 15 people. Bovec is also the centre of this fun sport in Slovenia. Rafting is offered by various organisers. Like any white-water sport, rafting is not entirely safe, but it is an absolute adrenaline kick.
Hiking in Slovenia
When you think of hiking in Slovenia, the first place that comes to mind is the Triglav National Park. But there are also many well-signposted hiking trails in grandiose nature in other parts of Slovenia. Several international long-distance hiking trails cross the small country. Some sections are crossed by hundreds of hikers every day in summer. On other trails you are alone with nature, sometimes meeting no one for hours even in season.
Skiing and snowboarding in Slovenia
Skiers in Slovenia are mainly in the Alps not far from the border with Austria and Italy. There are large ski areas with many lifts. A skiing or snowboarding holiday in Slovenia is somewhat cheaper than in Austria or Italy. This applies to the lift prices as well as to the accommodation and catering.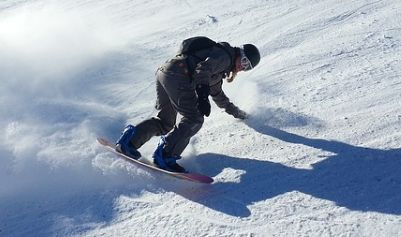 The most important ski resort in Slovenia is Kranjska-Gora, where World Cup races are also held regularly. Another well-known winter sports resort is Bovec. The region west of Maribor in eastern Slovenia is also an important ski region (Mariborsko Pohorje). Ski jumping and ski flying is in Planica, also a centre for cross-country skiing.
Cycling through Slovenia
Road cycling is easy in Slovenia. If you are fit, you will find some difficult pass roads in the country, especially in the north in the Alps. Slovenia is also not a bad holiday destination for mountain bikers. As far as we know, helmets are only compulsory for children in Slovenia, but you should still wear a helmet everywhere in the world. There are several dozen official information centres throughout the country for tourists travelling by bike. There you can also get maps especially for cyclists and valuable tips. Cycling is booming in Slovenia. There are also many workshops that can help quickly in case of a defect. More and more guesthouses in Slovenia, especially in the countryside, are specialising in guests travelling by bike.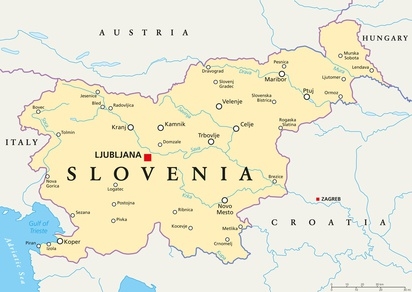 Image: © Peter Hermes Furian – Fotolia.com
Museum Athens  Lycabettus  Museum Acropolis  Anafiotika  Plaka Old Town
Rowing in Slovenia
Rowing has a long sporting tradition on the lake near Bled. Important races are held here every year, and there have already been three World Rowing Championships on Lake Bled. Rowing boats can be rented in the boathouse, which is very popular among tourists in summer. Rowing boats can also be rented on Bohinjsko Jezero in the Triglav National Park.
Water sports on the coast
The Slovenian coast is only suitable for windsurfing to a limited extent. There are several diving schools, especially in the seaside resort of Portoroz. Other sports such as sailing, water skiing and pedal boats are also available at the seaside in Slovenia. There are large tennis facilities in Portoroz, which also offer overnight tennis courses lasting several days. The town has a large harbour for yachts and sailboats (Marina Portoroz).