Lipica is one of the biggest sights in the west of Slovenia. It is the stud farm where the famous Lipizzaner horses are bred. As a tourist, you can visit the grounds or attend the famous horse show. Carriage rides in the beautiful countryside and pony rides for children are also offered.
On Getyourguide there are tours by bus to Lipica from various places in Slovenia and Italy.
Lipica is only one kilometre from the border with Italy and a few kilometres from the coast of Slovenia (Koper). Horses have been bred here for almost 450 years. Lipizzaner horses are the famous white animals used in the Spanish Riding School in Vienna. Lipizzaners are an ancient crossbreed of male horses (stallions) from Spain and Slovenian female horses (mares). The animals only turn white when they are about 8 years old. Before that they are much darker, mostly brown or grey. Not all Lipizzaner horses turn totally white, but only the completely white grey ones are used for the shows in Lipica or Vienna.
Tickets for Lipica

: Many sights have access restrictions because of Corona. You can buy tickets for Lipica online in advance on a serried, German-language website.

>>>

Ticket-Website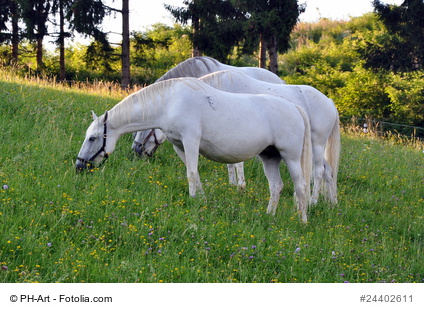 In history, the Lipizzaners almost became extinct several times. Only 11 animals survived the Second World War. Austria now breeds their own Lipizzaner horses in Styria for their Spanish Riding School in Vienna. This annoys many Slovenians.
Book day trips in Slovenia online
You can book many great day trips within Slovenia by bus online.
Many of these tickets are available on the well-knownwebsite Getyourguide.de.
– Bus tours to the Postojna Caves: Click here
– Tours to and from Lake Bled: Click here
– Tours and bus trips Ljubljana: Click here
Guided tours, entrance 2022 and opening hours Lipica
Guided tours of the Lipica stud farm are offered daily. The entrance fee is about 16 euros for adults. The guided tours, which also include a visit to the stud farm museum "Lipikum", are 8 times a day in summer between 10 am and 5 pm (every full hour). In winter, the opening hours are slightly shorter, taking place 5 times a day between 10 am and 3 pm (every full hour except at 12 noon). Discounts are available for students (9 euros), children up to 3 pm (6 euros) and children under 5 (1 euro). The tours are in Slovenian and English. Those who would like a guided tour in German should call a few days in advance to make an appointment. The prices for the guided tours refer to our visit in 2019, so they are probably a bit higher.
Getyourguide.com offers tours by bus to Lipica from various cities in Slovenia and Italy.
Much rarer are the very interesting demonstrations of the horsemanship of the triple horsemen. In winter, these are only on Sundays at 3 pm. In summer (May to September) these demonstrations take place 3 times a week (Tuesday, Friday and Sunday at 3 pm). Then you can also see the famous capriole of the Lipizzaner horses. Lipizzaners are very intelligent horses that can be trained well.
Carriage rides in the surroundings are also offered. The area around Lipica is considered one of the most beautiful landscapes in Slovenia.
Tickets for Lipica

: Many sights have access restrictions because of Corona. You can buy tickets for Lipica online in advance on a serried, German-language website.

>>>

Ticket-Website
Arrival and buses Lipica
Unfortunately we could not find any bus connections to Lipica. We assume that there are no buses to Lipica. You can get there by rental car from the nearby coast (Koper only 10 km). By train or bus, the nearest station is Divaca. From there you can walk to Lipica in just over an hour or take a taxi. A trip from the Slovenian coast to Lipica is also possible by bicycle. Incidentally, the border with Italy is less than a kilometre away as the crow flies, and the centre of the major Italian city of Trieste is barely more than 5 kilometres away. You can also get to Lipica from here by taxi or bicycle. There is a border crossing near Lipica. By the way, in Italian Lipica is called "Lipizza", which is why the horses are also called "Lipizzaner horses". Lipica is not a town or village, it is actually just the stud farm.
You can play golf in the area. You can find a good restaurant in Lipica. Weddings are also often celebrated in Lipica. For weddings in Lipica there is a beautiful little chapel and of course romantic carriages with the snow-white Lipizzaner horses. You can take a riding course in Lipica or book individual rides (for experienced riders).
All prices and information on opening hours etc. are from the beginning of 2020 until 2023.