There are about nine species of snakes in Slovenia. Four of them belong to the poisonous snakes, the other four snake species are not poisonous. However, you should not be too afraid of snakes; bites on people are rare. If you are bitten, however, you should see a doctor or hospital as soon as possible.
Poisonous snakes in Slovenia
European horned viper
This is probably the most dangerous snake for humans in Slovenia and in the whole Balkans. The horn on the forehead is conspicuous (see picture), hence the name. This snake species is also called sand viper. It is a large snake with a total length of up to almost one metre. The snake species is not always coloured as in the picture. It can also be dark brown, reddish, yellowish or even black. The patterning also varies.
---
Book day tours Slovenia online
You can book many great day trips within Slovenia by bus online.
Many of these tickets are available on the well-known website Getyourguide.com
– Bus tours to the Postojna Caves: click here
– Tours to and from Lake Bled: click here
– Tours and bus trips Ljubljana: click here
---
The European horned viper even occurs in southern Austria, such as Styria and Carinthia. In Slovenia, the horned viper lives in different areas, mostly in dry lowlands. Mostly these otters are found in stony or sandy regions, but also in scrubland and sparse forest areas. European horned vipers do not occur at higher altitudes in Slovenia. The snakes also live, for example, in the entire Balkans, Greece and parts of Asia.
The European horned adder is considered the most venomous snake in Europe. Bites can be fatal to humans, although very rare in adults. Children, sick and old people have often died from bites by the most venomous snake in Europe. There is a good antivenom available in hospitals in Slovenia. After a bite, you should immediately call an emergency doctor. Fortunately, horned viper bites are rare in Slovenia. Sometimes the consequences are underestimated, as the horned viper bite is often not very painful at first. However, the later effects on the whole body are very painful and unpleasant without treatment.
---
Our tip:
The great Ljubljana Card
Very good city ticket including local transport, castle with cable car, zoo, about 20 museums and more. The Ljubljana Card is available for 24, 48 and 72 hours. One of the best city passes for tourists in Europe. Extensive offer, good price/performance ratio, worthwhile. No more annoying buying of local transport tickets and entrance tickets for the city. Simple smartphone ticket. The Ljubljana Card is almost a must for tourists who want to see the city in a few days.
>>>
More info and booking
---
Bovec: Largest Zipline Park in Europe
Near Bovec is a special attraction: ride on ziplines (ropes) over a 200-metre-high canyon at speeds of up to 60 km/h. A special adrenaline kick that you won't forget for the rest of your life! In the Ziplin Park there are 10 ziplines with lengths ranging from 250 metres to 600 metres. An absolute highlight on a holiday in Slovenia!
---
Aspis viper
This snake is found in Slovenia, especially in the north-west. In Germany, too, some animals live in the southern Black Forest. In addition, it lives in other Alpine countries and in the Pyrenees, also at very high altitudes. Some asps have been found on mountains far above 2000 metres, including in the Triglav National Park in Slovenia. Bites are rarely fatal, but deaths do occur. A few years ago, an asps viper bite in France resulted in death despite rapid hospitalisation. There is an effective antiserum, quick help by a doctor is recommended.
Adder
This snake species is also very well known in our country. It is the only venomous snake that is common in large parts of Germany (see Venomous snakes Germany).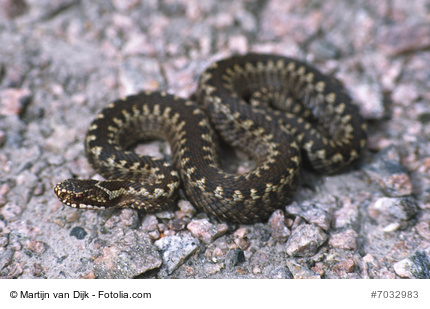 The adder can also have different colours and patterns. Thus, it is difficult for laymen to distinguish it from other snakes. In Slovenia, the adder is often darker than in our country. The occurrence of the adder stretches from Great Britain far into Asia. It is one of the few snake species that also live in cold countries, such as almost all of Scandinavia. That is why they can survive at higher altitudes in Slovenia, even on the very high mountains in the Alps. The bite of an adder rarely leads to death, but there have been fatalities. Always get help immediately. The adder is found in many areas in Slovenia.
Cat snake
The cat snake lives in Slovenia mostly near the Adriatic coast. The venomous fangs of this snake species are far back in the mouth. Therefore, it usually only comes into contact with prey that is already in its mouth. If a human is bitten, the venom is very rarely injected. The cat snake is mainly active at night, during the day it usually hides between rocks or in small caves.
Non-poisonous snakes in Slovenia
Leopard snake
This snake, which is rather rare in Slovenia, has very conspicuous red spots with black edges. In Slovenia it can only be found in very serviced regions on the coast and in the south. It is more common in southern south-eastern Europe, such as the Balkans, Turkey and Greece.
Four-striped snake
This huge snake grows up to 2.5 metres long. It lives in dry, rocky areas in warm regions. The four-striped snake also lives in large parts of Italy and Greece. Between Slovenia and Albania it is found only in a narrow strip along the coast.
Grass snake
One of the most common snakes in Europe from southern Scandinavia to Portugal or Turkey. It likes open landscapes with bodies of water. The grass snake can reach a body size of over one metre, but they are usually somewhat smaller.
Dice snake
This snake, which lives in and around water, is extremely rare in Germany, but somewhat more common in Slovenia. In southern countries, the dice snake is much more common. Among other things, it hunts fish in lakes and rivers. The snakes, which are about 70 cm to 100 cm long, even eat larger fish such as carp.
Smooth snake
Very common snake in large parts of Europe. It lives in various landscapes, including gravel pits and vineyards. It also inhabits mountains up to about 1900 metres. Mostly, smooth snakes are shorter than 80 cm, they are sometimes confused with the poisonous adder.